Aug 5, 2021


Soft lauching TRAMPOTRAMPA at Tangent Gallery's Affine Reading Room. Maíra das Neves and I co-hosted a collective reading with parts of 'The Refusal of Work' by David Frayne (2015), and 'The Capital is Dead' by Mckenzie Wark (2019).

More info

July 17, 2021


My artist book Devastação was featured today at the cover of the Internet&Sociedade magazine, issue #3, along with a list of cutting-edge articles reflecting about the internet crisis from a Brazilian perspective.

Many thanks to the InternetLab team in São Paulo. Vida longa!

Digital edition
PDF edition

April 30, 2021


Collaboration with Francele Cocco, Mercè Alsina and Nathalie Rey on their exhibition Sans Trêve Sans Merci, which was opened today at TPK. I created the visual identity and edited/designed the show's catalogue within the MZCL project.

From the introduction text:


Consumidores como mariposas atraídas por la luz. Hiperabundancia de naderías. El acto eucarístico con la mercancía. Personas-animales-emoticonos. Carteles de liquidación. Parasitismo que lleva ciudades al desastre.

El mundo que nos presentan Francele Cocco y Nathalie Rey en Sans Trêve Sans Merci es una deriva por el tecnocapitalismo alienador y su capacidad de control sobre las sociedades digitales y los sujetos contemporáneos.

Con una serie de trabajos producidos, en su mayoría, durante la crisis sanitaria, las artistas denuncian el estado compulsivo que se nos impone el sistema, una trampa a la cual se responde como fieles de un dogma religioso. Hace justamente cien años, en 1921, Walter Benjamin escribió que el capitalismo debe verse como una religión de culto permanente, celebrado "sin tregua y sin piedad". Desde entonces solo han cambiado la intensidad, el volumen y la velocidad de las oraciones.

More info and pics

Catalogue in
English
Spanish
Catalan

March 15, 2021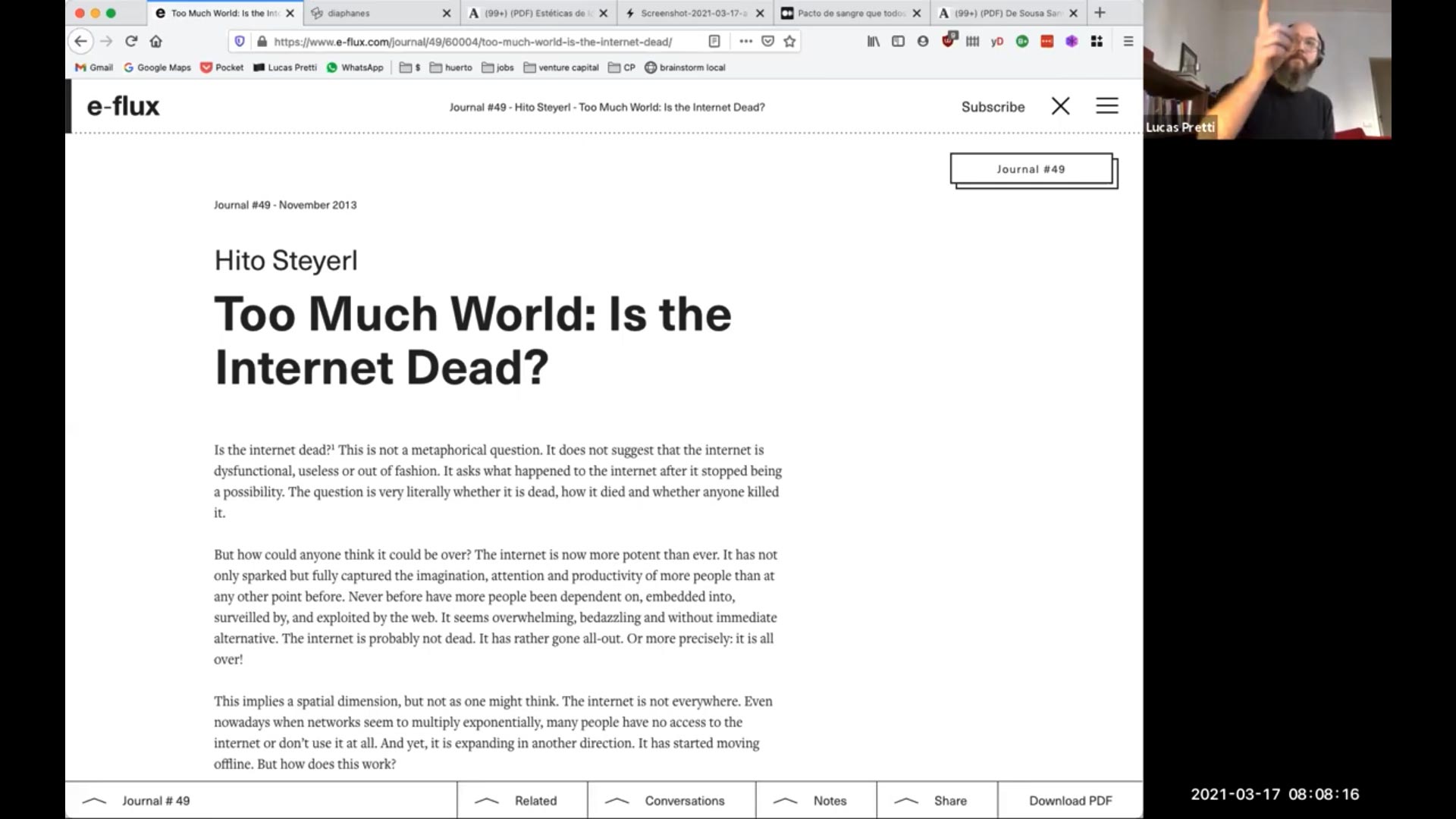 Imagine the worst: big corporations win, dictators are everywhere, all news are fake, rain forests are gone, internet infrastructure is burnt. What would you save from the collapse?

Starting today at the MozFest 2021, I'm running a speculative research where participants are asked to bring their best internet memories (favorite links, videos, memes, i.e. their digital heritage) to create a collaborative fictional artwork, a legacy of the good old times when the web was open, accessible and fun. I'm willing to put together resources from different backgrounds to create a visual essay.

As a Brazilian, I'm especially interested in Southern perspectives and how internet culture manifests outside of the center. It's been really interesting so far to engage in such dialogues.

Session recording link